"Flinger's Coupe" 11x17 Print
$

30.00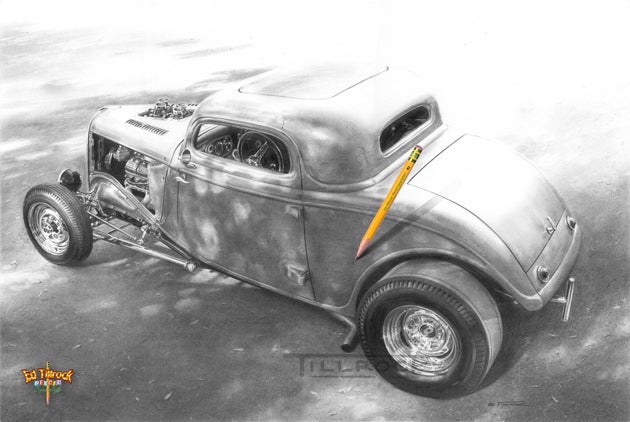 "Flinger's Coupe"
This was one of the cars that's I flipped over at the Grand National Roadster Show last January (2014). It represents a true American Hot Rod, in every sense. It's been chopped, has a blown Olds, runs slicks, it's gone down the 1/4 mile and it's a survivor!
Turns out it belongs to Jimmy Shine's Dad, Denny. He owned the car when he was a kid, and sold it (I think) in the 60's. Somehow Jimmy found the car and has spent a million hours going through the car...I don't know what their plans are for the 34, but I'd just drive the hell out it!
I was very fortunate that Jimmy introduced his Dad to me at the show. Like father, like son.... A couple of great guys!
This is an 11x17 print of an original pencil drawing done by Ed Tillrock.
All prints will be shipped in a tube, within 3-5 days of order. USPS. Please let me know if there's special shipping instructions.
I also have 20x24 prints, signed and numbered (1-250) They are $145 ea. plus shipping. Please contact me for availability and to get the lowest number, or if you have any questions: ed@edtillrock.com
Original artwork and images
copyright © Ed Tillrock
2014 All rights reserved
www.edtillrock.com
Share