"Silver Pilot" 11x17 print
$

30.00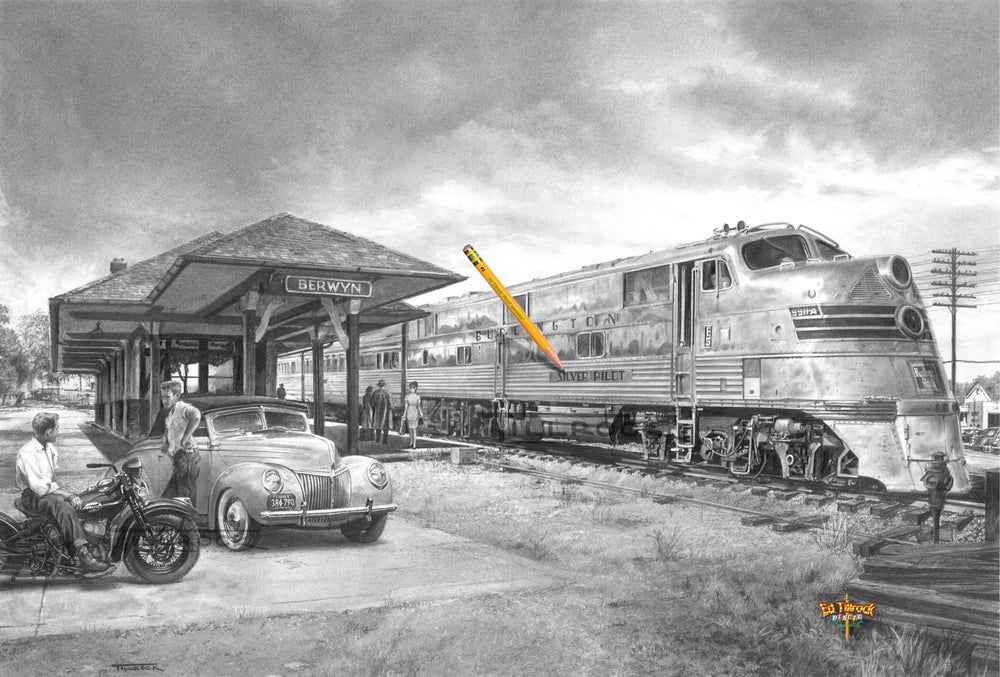 "Silver Pilot"
The bike is a 45 Harley. The car is a '39 Cabriolet. The Silver Pilot was built in 1940 by Electromotive Corporation (EMC), which subsequently has become the Electromotive Division (EMD) of General Motors (GM). The designation of E-5A indicates a "E" unit (two prime movers with A1A trucks), the "5" indicates the streamlined side panels (with were delivered only to the Burlington), and the "A" indicates a cab unit. Burlington often used "B" (cab-less booster) units to meet the power and speed requirements for its Zephyr passenger service. The Silver Pilot is the only E-5 locomotive that has been preserved. It's at the Illinois Railway Museum in Union....
(Berwyn is a suburb of Chicago, near where I grew up)
This is an 11x17 print of an original pencil drawing done by Ed Tillrock.
All prints will be shipped in a tube, within 3-5 days of order. USPS. Please let me know if there's special shipping instructions.
I also have 20x24 prints, signed and numbered (1-250) They are $145 ea. plus shipping. Please contact me for availability and to get the lowest number, or if you have any questions: ed@edtillrock.com
Original artwork and images
copyright © Ed Tillrock
2014 All rights reserved
www.edtillrock.com
Share