"Big Ed" X1 GT40 Roadster (14x24) or (22 x 40) Signed & Numbered Giclee' Prints
$

165.00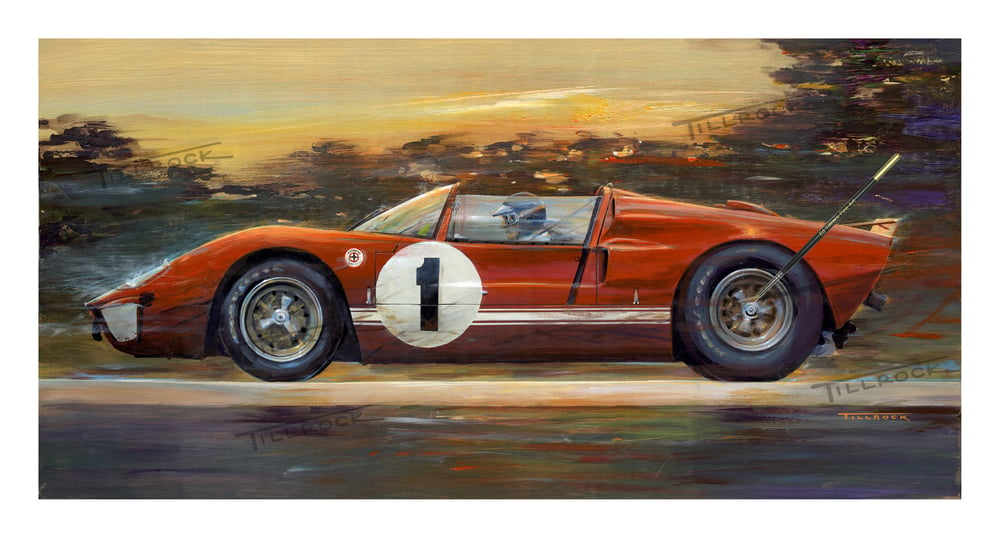 "Big Ed" X1 GT40 Roadster (14x24) or (22 x 40) Signed & Numbered Giclee' Prints
These are Giclee' prints
(14" x 24") $165.00 (1/250)
(22" x 40") $245.00 (1/350)
"Big Ed" The Lost GT40 Roadster.
Built originally as one of 5 X1's, Big Ed was the
only one with an aluminum chassis. The X1's didn't do well
in the '65 season, and Big Ed was shipped to
Shelby American where the transformation took place.
They added the MKII nose and a taller rear spoiler
to counteract the turbulence of the open roof.
Ken Miles and Lloyd Ruby drove the car to it's only
win at Sebring in 1966. The GT40 Roadsters didn't work,
and this car was sidelined. Only to have most of it's parts
stripped to be used on other cars! It then was cutup and destroyed
because of a Temporary Import Bond that had long since expired.
Shelby no choice... Parts of the car are reported to be under
an apartment building!
It is printed on Museum Quality Paper, with Archival Inks...
These are signed and numbered prints (001/250)
Shipping for the print alone (US) $20.00 If outside the US please contact me for shipping fees... (ed@edtillrock.com)
Framing is available. Please contact me for a price.
If you have any questions, or need more info, please email me: ed@edtillrock.com
Original artwork and images
copyright © Ed Tillrock
2020 All rights reserved
www.edtillrock.com
Share