"The King's Coach" 13"x19" Print
$

40.00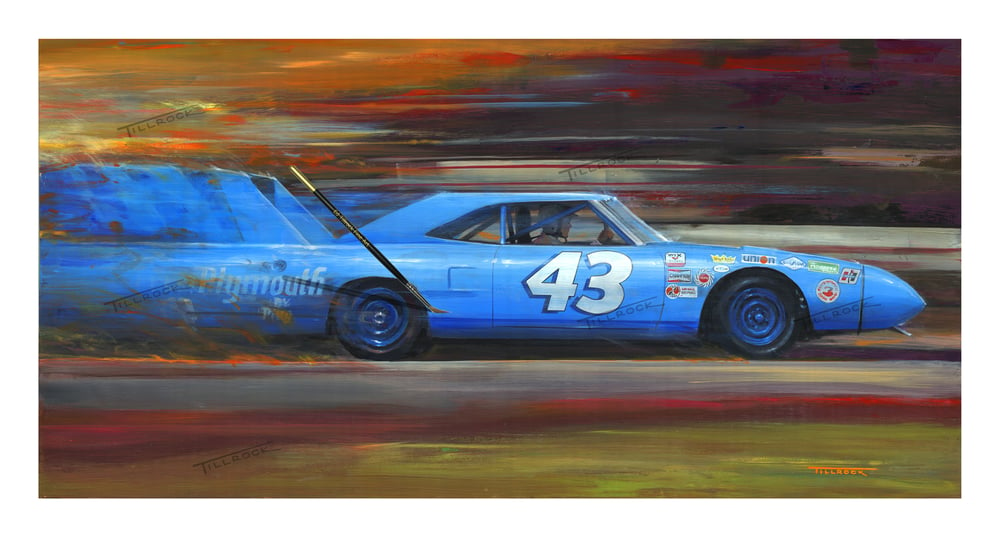 "The King's Coach" 13"x19" Print
"The King's Coach"
Back in 2015 I was the SEMA Artist. (I Did all of the artwork that represented the different halls at the SEMA Show in Las Vegas.) I was there a few days early to setup my booth. There's a lot going on during that time people unloading boxes, cars coming out of their transporters, lift trucks, large wooden crates and golf carts! It's controlled chaos... I love it!
On that day I heard a car startup in a transporter. It sounded like a Top Fuel Funny Car, but different. High compression crazy-assed cam, it was unbelievable! It was Richard Petty's 1970 Hemi SuperBird!!! I'll never forget that sound.
Later that week I got to sketch with the King himself! Mike Spagnola who runs the SEMA Garage asked me to sketch a modern version of the SuperBird using a new Challenger in SEMA Central during the show. I had an awesome hour with him & that beautiful Winged Warrior! I will never forget that day!
They say "Never meet your heroes, because they're sure to disappoint you!" Well that doesn't apply here! He was awesome!
The photo of Petty and me was taken by my new friend (that day!) Elana Sherr...
This painting is of Richard racing at Riverside Raceway in 1970...
This is an 13"x19" print of an original painting done by Ed Tillrock.
All prints will be shipped in a tube, within 3-5 days of order via FedEx. Please let me know if there's special shipping instructions. ($10.50 US only. Email me if out of the country.)
Original artwork and images
copyright © Ed Tillrock
2020 All rights reserved
Share